Below are resources that may be useful for in-service or pre-service history teachers. Please visit regularly to see updates.
UNITS OF WORK FOR THE AUSTRALIAN CURRICULUM: HISTORY
The following units of work for the Australian Curriculum: History were created by pre-service History teachers from The University of Newcastle, Australia. In addition to the unit plan, some include example lesson plans.
Depth Study 2b: Ancient Greece | 1.2 MB PDF | Author: Emily FORREST
Depth Study 2c: Ancient Rome | 283 KB PDF | Author: Sasha VINCENT
Depth Study 4b: Medieval Europe | 360 KB PDF | Author: Adam PHILLIPS
| 6.2 MB PDF | Author: Olivia BELL
Depth Study 5c: Migration Experiences | 360 KB PDF | Author: Christopher CLIFTON
| 9 MB PDF | Author: Greg FIELD
The above units are distributed under a Creative Commons Attribution Non-Commercial 2.5 Australia License | CC BY-NC 2.5 AU.
CURRICULUM DESIGN AND PEDAGOGY TEXTS FOR THE AUSTRALIAN CURRICULUM
Marsh, C., & Hart, C. (2011). Teaching Humanities and Social Sciences in the Australian Curriculum. Sydney: Pearson Australia.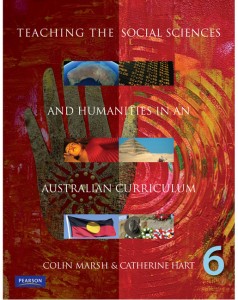 Teaching Humanities and Social Sciences in the Australian Curriculum 6e helps students to understand the world and their place within it. It covers a diverse range of topics from civics and citizenship through to politics and globalism for primary and secondary students. This text encompasses a learning area that is exciting and challenging. It allows students to examine societal and environmental problems and to develop logical arguments to grapple with present day personal, national and international problems such as terrorism, violent retaliation, censorship, repression and ideological conflicts. Each chapter includes sound pedagogical planning principles together with a comprehensive range of practical ideas and examples. Questions and activities challenge students to think critically about a variety of social and environmental issues.
This book was written by the late, and well-respected Professor of social education, Colin Marsh, and our own HERMES colleague, Dr Catherine Hart.
Mockler, N. & Talbot, D. (2012). Australian Curriculum: Classroom Approaches – History. Melbourne: Palgrave Macmillan.
This book is part of the Australian Curriculum Classroom Approach series. The aim of the series is to provide a curriculum design solution for the subject areas of Science, History, Maths and English for secondary schooling (grades 7 through 10). The books draw together a range of contemporary approaches to curriculum design and pedagogy, consistent with the spirit and aims of the Australian Curriculum. They provide a clear framework for teachers who wish to develop their own units of work based on the Australian Curriculum.
This teacher resource book was written by one of our University of Newcastle colleagues, Dr Nicole Mockler.